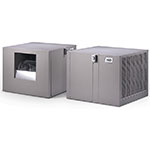 AeroCool Pro Series
Set the comfort level for you and your family and the AeroCool Pro-Series evaporative air cooler does the rest. Combined with the Pro-Stat programmable thermostat, the AeroCool Pro-Series will automatically and efficiently operate the equipment to best maintain your comfort level while using the least amount of energy.
High Efficiency Rigid Media
The AeroCool Pro Series features the Pro-4×4 High Efficiency Media to provide the coolest air possible while employing the Pro-Clean System to help maintain the entire system. The AeroCool Pro Series and its integrated systems work hard to help bring together both performance and efficiency while providing worry-free reliability.
The Pro-Clean System
The Pro-Clean System maintains the cleanliness of your evaporative cooler by automatically draining the cooler and refilling with fresh clean water, thus avoiding scale build-up. The water used in the evaporative process is stored in-side the fully encapsulated Pro-Armor wet section. The AeroCool® Pro-Series includes the Pro-Shield weatherizing panel for use in the off-season to prohibit heat loss and unwanted air from entering the home during colder months. Defending the media from the elements of winter can also extend the life of your unit.